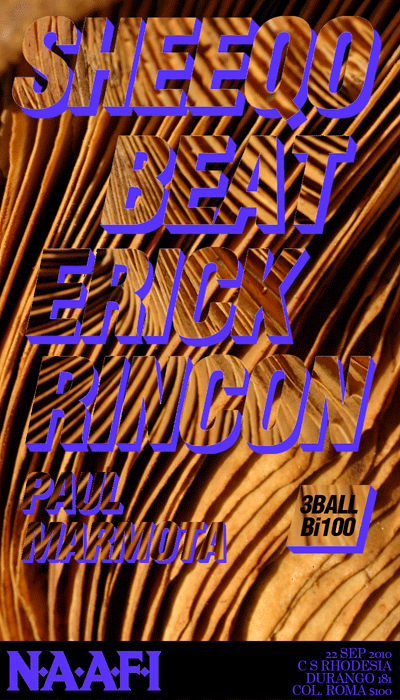 N.A.A.F.I #2
@
Club Social Rhodesia
DF
Miercoles 22 de Septiembre 2010
SHEEQO BEAT
ERICK RINCON
PAUL MARMOTA
Cover $100
Durango 181
Col.Roma DF
N.A.A.F.I
regresa, en su segunda edicion, muy Mexicana. Esta vez nos trae desde Monterrey, a dos jovenes productores puntales del 3ball MTY bien conocidos en este blog,
ERICK RINCON
y
SHEEQO BEAT
, quienes haran suyo el
RHODESIA
este Miercoles 23 de Septiembre en el DF junto al percusivo
PAUL MARMOTA
, toda un institucion en los gigs del
RHODESIA
, todo para tener una gran fiesta #3ball #bi100!!!. Chequen lo que estos morros tienen preparado.
N.A.A.F.I
comeback, in their second edition party, a very Mexican one. This time the house is going down with these fellas from Monterrey, a very young producers duo, chiefs of the 3ball MTY sound, well known in this blog, they are
ERICK RINCON
and
SHEEQO BEAT
, who will do their thing at
RHODESIA
this Wednesday September 23 at the DF Mex, side to side with PAUL MARMOTA, a whole gig institution in the
PAUL MARMOTA
, so, everything matches to have a great #3ball #bi100 party!. Check out what this kids are cooking.
Retour de
N.A.A.F.I
, en leur partie de deuxième édition, très mexicaine. Cette fois la maison est vers le bas assortie à ces types de Monterrey, un duo très jeune de producteurs, chefs du bruit de 3ball MTY, bien connus dans ce blog, ils sont
ERICK RINCON
et
SHEEQO BEAT
, qui fera leur chose à
RHODESIA
le ce mercredi 23 septembre au DF Mex, côté à dégrossir avec le
PAUL MARMOTA
, un établissement entier de fette dans le
RHODESIA
, ainsi, tout s'assortit pour avoir une grande fette de #3ball #bi100 !. Vérifiez ce que ceci badine font cuire.
N.A.A.F.I
回击,在他们的再版党,一非常墨西哥一个。 这次房子下来与从蒙特雷,非常年轻生产商二重奏, 3ball MTY声音的院长的这些家伙匹配,知名在这个博克,他们是
ERICK RINCON
,并且
SHEEQO BEAT
,这星期三将做他们的事在
PAUL MARMOTA
9月23日在DF Mex,支持的边与保罗早獭,
RHODESIA
的一个全违规记录机关,如此,一切配比有一个巨大#3ball #bi100党!。 检查什么这哄骗烹调。
Dj Sheeqo Beat- Alarma 2010
Erick Rincon – Loituma (3ball Experimented)
Appietus featuring 4x4 (Ghana) - Miss Doctor (Paul Marmota Remix) by Paul Marmota